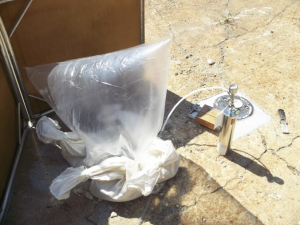 Soil Gas Sampling – Soil Vapor Intrusion Exposure Pathway
Schrack Environmental Consulting, Inc. (SECI) is a leader in Chicagoland for the completion of soil vapor sampling (soil gas sampling) that is required by the Illinois Environmental Protection Agency to evaluate the Indoor Soil Vapor Exposure Route for sites enrolled in the Voluntary Site Remediation Program and the Leaking Underground Storage Tank (LUST) programs in Illinois.
SECI has successfully completed over 20 soil vapor / gas surveys and has obtained No Further Remediation letters for sites based on the results of the Soil vapor surveys conducted on the subject properties. SECI follows the Soil Vapor Intrusion Fact Sheet (www.epa.state.il.us/land/taco/soil-gas-sampling.protocol.html) guidelines and has conducted soil gas sampling on active construction sites, occupied buildings and abandoned properties in the Chicago area.
Schrack Environmental Consulting has a proven track record for successful completion of soil vapor/soil gas sampling and can install sub slab depressurization systems to relieve vapor intrusion into existing buildings in the Midwest.
~ 2018: Schrack Environmental Consulting is the #1 trusted leader for Phase 1 and Phase 2 Environmental Reports in the Chicagoland area. ~