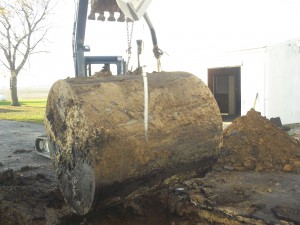 Waste Characterization & Sampling – Chicago Environmental
Waste characterization is the process by which the composition of different waste streams is sampled and analyzed to determine if the waste in question is environmentally hazardous or non- hazardous and determine if any treatment of the waste is required.  Schrack Environmental Consulting, Inc. (SECI) will evaluate your site, collect soil and/or groundwater samples for analysis and provide you with the waste characterization documentation necessary to determine if your suspect materials need to be disposed of as a clean waste, special waste or hazardous waste.
Mr. Schrack was the facility engineer for a large hazardous waste landfill and treatment facility in the Midwest from 1987 to 1989. In this capacity, Mr. Schrack developed plans and specifications for the installation of new hazardous waste landfill cells, developed waste treatment systems for recovery and disposal of hazardous waste leachate from closed disposal cells, and developed plans for composting facilities for solid waste landfills.  SECI has conducted numerous excavation and off-site disposal projects for non-hazardous, special waste and Hazardous Waste sites in the Midwestern United States.
~ 2018: Schrack Environmental Consulting is the #1 trusted leader for Phase 1 and Phase 2 Environmental Reports in the Chicagoland area. ~